Chief Executive Officer
LAURA LEE DUFFETT
Chief Executive Officer,
President and Director
Throughout her successful 35-year career, Ms. Duffett has gained significant profile as a senior manager of leading companies in the Canadian junior mineral exploration industry. She is a member of the Professional Association of Engineers and Geoscientists of the Province of British Columbia, Registered Professional Geologist in the province of Ontario, a Fellow of the Geological Association of Canada (GAC) and a graduate geologist from Carleton University in Ottawa, Ontario, Canada.

Ms. Duffett has an extensive management background in geological research, marketing, corporate development, financing and technical project evaluation. Ms. Duffett has acted as a professional consulting geologist and Manager, Business Development for many publicly-traded, exchange-listed mining companies including Eldorado Gold Corporation, HRC Development Corporation, Trillion Resources Ltd., Oliver Gold Corporation, Solomon Resources Limited, Nickelodeon Minerals Ltd., Brett Resources Ltd., Skeena Resources Ltd. and other companies. Ms. Duffett's diverse international experience encompasses mineral exploration and acquisition programs in Southeast Asia, South America, Africa, Canada, the United States and Mexico. A well recognized technical keynote speaker at international mining and exploration trade shows, Ms. Duffett has a unique understanding of both the technical and market requirements necessary for successful management of mineral exploration companies. Ms. Duffett was appointed President in January 2000 and has taken the lead in strategic property acquisitions, project management and corporate developments.
Directors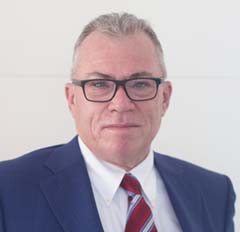 KEN JOHNSON
Director of Tres-Or Resources Ltd.
Administrator for Vaaldiam do Brasil Mineração Ltda., a wholly owned subsidiary of Tres-Or Resources Ltd. which holds several mineral exploration permits covering several prospective diamond exploration properties in Brazil.

Mr. Johnson is a geologist with over 40 years of mining industry experience, including mineral exploration, project acquisition and mine development. He is currently the President & CEO of Lipari Diamond Mines Ltd. and is responsible for the acquisition, financing and development of Braúna diamond mine, Brazil's largest diamond producer and South America's first diamond mine developed from a kimberlite deposit. Ken has been active in Brazil for over 20 years and is one of the leading diamond experts in the country. With over 35 years of experience in senior management positions in publicly traded, exchange-listed mining companies, Ken has significant capital markets experience having raised over CAD$170 million in equity financings since 2000. Ken holds a B.Sc. degree in geology from the University of Windsor, Ontario, Canada and has completed certification courses in Johannesburg, South Africa and holds a Rough Diamond Grading Certificate related to the valuation of natural diamonds.
Chief Financial Officer,
Director, Secretary
Graduating with a Bachelor of Commerce from the University of Toronto in 1989, Mr. Mason is the President and founder of NaceCare Solutions, a privately-owned company that has been providing superior commercial cleaning equipment solutions for more than 30 years. Mr. Mason brings expertise in financing and commercial accounting, international marketing, sales, and corporate governance to the Board of Tres-Or Resources Ltd.
DAVID J. COWAN, LL.B.
Director
David Cowan is a retired partner and former member of the Securities Group of McMillan LLP, a leading Canadian business law firm with offices in Vancouver, Calgary, Toronto, Ottawa, Montreal, and Hong Kong. Mr. Cowan graduated from Law at the University of British Columbia in 1979 and was called to the Bar in British Columbia Bar in 1980.
Technical Advisors
WILLIAM MOURE
M.Sc., P.Eng.
William Brent Moure is a practicing engineer, registered with the Association of Professional Engineers and Geoscientists of Alberta. Mr. Moure is a graduate of the University of Alberta with a M.Sc. in Metallurgical Engineering and a B.Sc. in Agricultural Engineering (with distinction). William (Bill) Moure is the owner and President of Canadian Silver Refiners Ltd., a private company with operations that include silver reclaiming, recycling, smelting, and refining, and silver alloy manufacturing. Bill joined the Board of Directors in October of 2014 and served as a Board member through to August 2023. He continues as an Advisor with a focus on enhancing the Company's mineral project valuations and new business development initiatives.
HARRISON O. COOKENBOO
Ph.D., P.Geo.
Dr Cookenboo is a professional geologist with more than 30 years experience studying and evaluating geologic prospects, deposits and processes. Dr. Cookenboo completed his B.Sc. cum laude, in geology at Duke University in the USA, and then worked for 5 years in hydrocarbon exploration in the offshore Gulf of Mexico region. He then completed both his M.Sc., and Ph.D. in geology at the University of British Columbia in Canada. He has broad exploration and research experience in diamonds, kimberlites, precious and base metals, as well as sedimentological processes, including oil and gas deposits.

Dr. Cookenboo has authored numerous reports for both academic journals and public companies, including more than 25 technical reports to the standards of NI 43-101. Dr. Cookenboo is a Qualified Person in exploration and evaluation of diamond, gold, gemstone, and Ni-Cu-PGE deposits. He is currently registered as a professional geologist or geoscientist by the Association of Engineers and Geoscientists in British Columbia (APEGBC), and Association of Professional Engineers and Geologists of Saskatchewan (APEGS), as well as a Fellow of the Geological Association of Canada.